How to Access Desk Copies in Canvas
Desk copies are a valuable resource for instructors wishing to read the online textbook for themselves. In order to access them, first open your Canvas course and navigate to any chapter of the online text.

You should be presented with the grading screen that you see below. Scroll down to the bottom and click the Sample Chapters link. This will open your instructor desk copy and allow you to look through the book without the need to enter an access key or deal with locked chapters.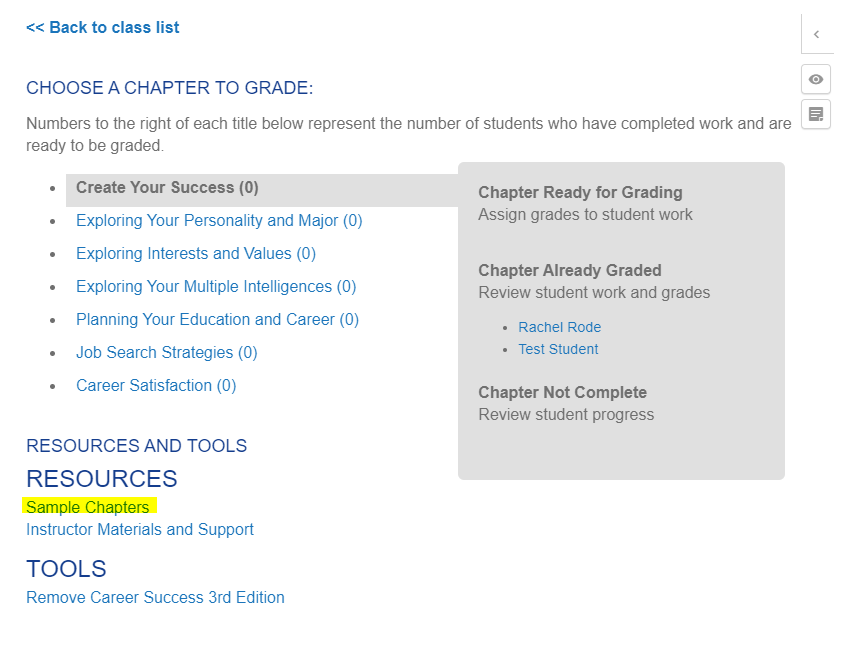 Related Articles

How to Access Desk Copies on the Human eSources Platform

Desk copies are a valuable resource for instructors wishing to read the online textbook for themselves. In order to access them, first log into your account at center.humanesources.edu and navigate to Pro Tools. Once in Pro Tools, you should see ...

How to Access Desk Copies in Blackboard

Desk copies are a valuable resource for instructors wishing to read the online textbook for themselves. In order to access them, first open your Blackboard course and navigate to any chapter of the online text. You should be presented with the ...

Getting started with College & Career Success using Canvas

Bookmark this page for easy access anytime! Now that you have adopted the publication for your upcoming course, getting started with College & Career Success is easy. This serves as your one-stop resource to plan your course and ensure a positive ...

Getting started with your online publication using Canvas

Bookmark this page for easy access anytime! Now that you have adopted the publication for your upcoming course, getting started is easy. This serves as your one-stop resource to plan your course and ensure a positive experience for you and your ...

Canvas instructor videos (using online textbooks)

Setting up the Canvas integration Grading student work Copying your course