Why is my access key telling me to redeem it in Canvas?
When attempting to enter an access key on the Human eSources platform, you may receive the following error message: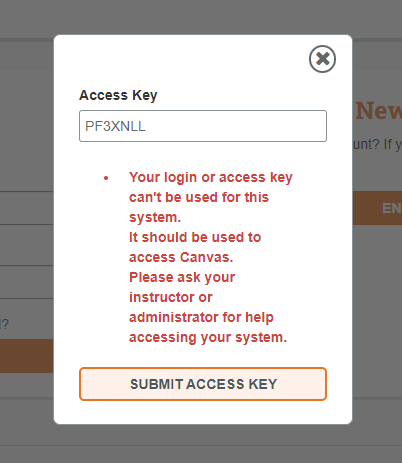 This error message typically indicates that your online text access is through your Canvas course instead of the Human eSources platform. To redeem your access key through Canvas, you can follow these instructions:
Student Guide to Using Online Textbooks in Canvas
If you have been told that your access will be through the Human eSources platform and receive this error, please contact our team at
customercare@humanesources.com
or via our Live Chat at support.humanesources.com
so that we can further assist you.
Related Articles

My access key isn't working

Sometimes you may receive an error message when attempting to enter an access key. Generally, your course of action will depend on what exactly the error message is. If you receive an error that says your code is invalid or has already been redeemed, ...

How do I enter an additional access key?

If you've setup an account using an access key and need to enter an additional access key on your account, here's how. This also works if you used an access key that prompts you to purchase your textbook online (College & Career Success, ...

Chapter links not opening in my online textbook

Problem You are using one of our online textbooks and you are having trouble opening the next chapter to continue your work. Solution If you are using Canvas, Blackboard, Moodle, or D2L, it might be that you have not yet unlocked the next chapter in ...

Why am I getting a CSRF error?

This error sometimes occurs with multiple login attempts on the same machine, although it is there by design to prevent forgery on the site. It also protects our site if a user has a virus. Usually, clearing your cache in your browser will resolve ...

Accessing your online textbook after your course ends

If you are not using Canvas or Blackboard to access your online textbook, you'll continue to login the same way even after the course ends. You don't need to request continued access. If you would like continued access to your online textbook outside ...